HandySaw DS 4.6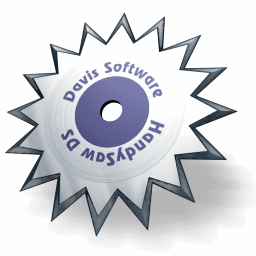 Introduction
Features
Output data format
Major innovations in version 4.6
Manual Trimmer
System requirements
History of changes
Conclusion
Introduction
HandySaw is intended to facilitate the job for people who work with nonlinear editing (NLE) software.
To accelerate the digitalization process the source material is usually captured as one or several large pieces, operate with such source files can be rather difficult. Instead of one long clip it is desirable to have a set of short clips, each one containing one single "scene" (e.g. from the start to the end of recording).
This is the task that can be accomplished by HandySaw DS.
HandySaw DS is a Powerful Automatic Optical Video Scene Detection Tool.
---
Main Features
Video scene detection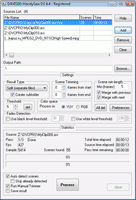 HandySaw DS offers two methods of scene detection in the videofile:
Optical. The program parses content of the videofile, finds scene changes and divides the initial video into separate scenes. For this analysis only videostream data is used; timecodes or any other information are not required. Of course 100% correct results cannot be guaranteed but, on the average, it is rather high.
Also thus there is an opportunity to detect very dark and very light frames as a separate scenes.
By the date of shooting. Cameras of DV standard and the standards based on DV (DVCAM, DVCPRO), during the shoot saves time and date of shooting of each frame of video on a tape. Then if video is transferred in a computer via digital FireWire interface this information is saved in the videofile. If HandySaw finds it then search of scenes is fulfilled with usage of these data. In this case accuracy of detection makes 100 % under condition of absence of a spoilage in initial video.
Supports many video formats
Due to use MS DirectShow API HandySaw DS is capable to process the big number of formats of videofiles - AVI, MPEG, MOV, etc. Basically it can process any videofile for which there are corresponding DirectShow filters.
Works in YUV or RGB color space
Scene detector can works in YUV or RGB color space. The user can choose.
Many formats of presentation of result of splitting
HandySaw DS offers a wide range of variants of representation of the information of splitting into scenes:
Copying of each scene in a separate file using internal routines
Copying each scene in a separate file by ffmpeg software
Copying each scene in a separate file by VirtualDub software
Final Cut XML
Libraries in format PLB and PSQ for Adobe Premiere
EDL file for Sony Vegas
CMX3600 EDL
EDL file for EDUIS
Edition list in the HTML format
Besides this it is possible to create new type of result, having written a plug-in for HandySaw...
Support of plug-ins of result generation
HandySaw DS supports plug-ins of generation of the result, written on script languages (for example JavaScript, VBScript). If you wish to receive result of splitting in a special kind, you can create a new plug-in which will meet your requirements.
In corresponding section of the help there is a full information for the developer of plug-ins.
The powerful tool for manual editing - Manual Trimmer
In addition to automatic partitioning there is Manual Trimmer tool which allows you:
To check up a correctness of automatic partitioning on scenes.
To delete unnecessary scenes.
Precisely to cut off any scene.
To splice two scenes.
To divide a scene in the defined place on two.
To give names to scenes.
To enter comments to scenes.
To place the unnumbered markers which will be accessible in Adobe Premiere.
At any moment to save the current information in HSQ the file.
To convenience of the user mechanism Hold/Fetch and 99 levels Undo/Redo are accessible.
Thus, automatic partitioning on scenes in a combination with Manual Trimmer allows fast and convenient to prepare the initial material for editing in the videoeditor
Copying of each scene into separate WMV file without recompression
If source video - a WMV file, HandySaw DS can save each found scene into separate WMV file without recompression.
Copying of each scene into separate AVI file with recompression
You can save each scene in separate AVI file and at the same time video and audio can be recompressed by the codecs chosen by you.
Copying each scene into separate MOV file without recompression
You can save each scene from QuickTime source to separate MOV file without recompression.
Copying each scene into separate file of the same format with or without recompression using FFmpeg software
HandySaw can copy each scene in separate file of the same format without recompression using FFmpeg software. Also it can recompress media to another format. It is possible for almost any video file format.
Batch mode processing
You can set the list of files for processing and HandySaw DS will process all of them by turns.
Support of a command line interface
The powerful command line interface allows to organize any scenario of use of HandySaw DS.
Creation and printing of reports on splitting
You can create the report on splitting a videofile, print out it on the printer or save in sequence of BMP files by means of tool Clip Sheet.
Possibility of easy localization of the program
Because all the significant symbolical strings, used in the interface of the program, are in a separate text file, to translate the program to other language is rather simply. Initially there are an English and Russian language packages.
---
Output data format
HandySaw DS can generate these types of result:
Split (separate files) - in this case HandySaw DS copies each retrieved scene in a separate media file. Depending of settings copying may be with or without media transcoding. If Create Subfolder item is marked, a subdirectory with name "FIlename.Scenes" will be created and all scenes will be saved in it. If the source video and result are located on one disk, resulting audio files will be saved in the audio drive you indicated (in the Preferences) in the appropriate directory. If source and output disks are different, audio is saved near to video.
Simple List - the result is a text file, in which the frame numbers of the beginning and end of the scenes are listed. Each scene is in a separate line.
Compatible PLB - HandySaw DS creates an Adobe Premiere Library (.PLB) file, where to each retrieved scene there corresponds one clip referring to the initial videofile. In addition there is a clip containing all initial video. This clip may contain the unnumbered markers, marking each scene start. In Adobe Premiere (further AP) it is possible for version 5 to simply open the .PLB file and import it into the project. In AP 6+ you have to import the .PLB file into an existing project! The file format is compatible with AP as much as possible. For AP 6+ use PSQ 6 instead.
Usage PLB - with this option a PLB file is created also, but its format slightly differs from previous. It has some advantages and disadvantages.
On the one hand — in the project window in the "Usage" column there is a correct value of how many times this clip was located on timeline. In "Compatible PLB" all this statistics is displayed only for last, complete clip referring to all video.
On the other hand — Project Trimming function do not work correctly. It is impossible to use it. For AP 6+ use PSQ 6 instead.
AP 5 PSQ - PSQ file - Adobe Premiere Sequence in Adobe Premiere 5 format.
AP 6 PSQ - PSQ file - Adobe Premiere Sequence in Adobe Premiere 6 format, can contain comments of the user. PSQ 6 files can be imported in Adobe Premiere Pro.
Vegas EDL - text file in EDL format which can be opened in Sony Vegas program.
Further in the list all result generation plug-ins installed in your system are listed. In standard package there are:
CMX3600 EDL.js - file of EDL CMX3600 format is created. It is compatible with Adobe Premiere Pro
Edius EDL.js - EDL format file compatible with Canopus Edius is created
Final Cut XML.js - creates FinalCut XML file that describes sequence with input file splitted on clips by scenes. It also contains scene comments and markers. Many editing systems now supports Final Cut XML format importing.
HTML EDL.js - the edition list in the HTML format is created
Split by VirtualDub.js - the script .SYL for VirtualDub is created. During execution of created script VirtualDub copies each scene of source AVI file in separate AVI file without recompression.
---
Major innovations in version 4.6
Trimmer user interface has been improved
It has become much more responsive. Now preview images in scene list can be freely resized. Resizing now much more smooth and fast.
Scene redetection tool has been extended
Settings for scene trimming and merging have been added. Window now also is resizable.
Thumbnail extraction engine has been improved
Now you will see more rarely the yellow rectangle, meaning it was not possible to extract a desired frame, thus nearby frame is shown instead.
---
Manual Trimmer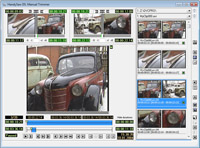 HandySaw includes the powerful tool for manual video trimming - Manual Trimmer .
It allows:
---
System requirements
In order to use HandySaw DS the following conditions are necessary:
Windows Operating System
Intel Pentium CPU or above
Microsoft DirectX 8.1 or above
DirectShow filter WAVDest.ax (for usage of the Split mode on systems with separate storage of video and audio)
Windows Media Format Runtime (to operate with WMV files)
---
History of changes
Version 4.6
Trimmer user interface has been improved, it has become much more responsive
Now preview images in scene list can be freely resized
Thumbnail extraction engine has been improved
Scene redetection tool has been extended by adding settings for scene trimming and merging
Scene redetection tool window now also is resizable
Properties FrameType, AspectX, AspectY and IsExtInfoValid added to SDK
Final Cut XML.js plg-in has been updated to version 1.80: format compatibility has been improved by using of new properties of SDK
HSQ files format has been changed, now version 4
Shell context menu item now added to .MXF too
ffmpeg и lavfilters have been updated
Several other minor improvements and fixes
Version 4.5
Ability to finely configure a process of selection of DirectShow filters for use by application was added
LAV Filters included in installation package and used without installation in system
Thumbnail extraction engine reworked and improved
DirectShow splitting engine totally refactored
Debug logging system optimized
Processing of video when frame width is not multiple of 8 fixed
"Final Cut XML.js" plug-in updated to be compatible with Adobe CC
"Export scenes with markers to files" command added to Trimmer
Compatibility with LAV filters improved
Export To File from Manual Trimmer now processes all marked scenes
Wavdest DirectShow filter now included and used when necessary without installation in system
Added FFmpeg Splitting Engine profile that copies media starting from nearest previous video keyframe
All Split engines now save scene name and comment to file as metadata
Scene name and comment now saved in file during Export To File from Manual Trimmer
Compatibility with 3rd party DirectShow filters improved
FFmpeg updated
Vertical scaling in scenes redetection dialog of Manual Trimmer added
Taskbar progress indication in Windows 7 added
Manual Trimmer video playback engine improved
Minor fix in frame-timecode conversion routines
Numerous minor improvements and fixes
Version 4.4
QuickTime splitting engine added
Version 4.3
FFmpeg splitting engine added
"Split by ffmpeg.js" plug-in removed
Mpegcut.dll usage removed
Self-tuning added to thumbnails retrieving and Manual Trimmer positioning routines
Scene margins support added to Split result
SaveToTextFile method added to SDK
Lang property added to SDK
When HSQ file loaded and media file is missed user asked about new file location
Cut list import in Manual Trimmer added
Now comments are appending instead of assigning in Manual Trimmer
Debug capabilities extended
Online new version checking added
Max value of scene trimming increased to 999
Interface font changed to TrueType "Microsoft Sans Serif"
"Break in timestamps enough for new scene start" parameter added
RGB to YUV conversion internal routine added
YUV colorspace now is default
Several minor improvements
Version 4.2
Windows Vista compatibility improved
Several scene naming templates added
Several user interface design changes
"Split by VirtualDub.js" plug-in improved
"Split by ffmpeg.js" plug-in improved
Version 4.1
Now plug-ins can have adjustable by user parameters
Thumbnails retrieving routines rewritten
Some core routines rewritten
Version 4.01
Saving of each scene of a WMV file in separate WMV a file without recompression is added
You can choose how many thumbnails per scene Manual Trimmer shows in scenes list
Several bugs was fixed
Bugs tracking system is added
Version 4
Support of plug-ins of generation of result is added
Recognition of "black" and "white" scenes is added
Scene detector can work in YUV color space
Work with MPEG2 files is improved
Choice of codecs for video and audio recompression
Saving of each scene of a MPEG file in separate MPEG a file without recompression
Adjustments of parameters of creation of AVI files are added
Fine adjustments of parameters of MPEG files reading are added
New tool - MPEG Filter Test
The choice of the renderer filter is added
Multilanguage support is added
Procedure of video processing actions choice is changed
Interface of Manual Trimmer is slightly changed
The out-of-date control elements are removed
The global menu in Manual Trimmer is added
The type of result Vegas EDL is compatible with Vegas version 5
New parameters of a command line are added
Manual Trimmer is optimized
Version 3.21
The new type of result - Vegas EDL is added
If video contains the information on time of shooting it is displayed in Manual Trimmer
In the processing log-file the method of scene detection for each processed file is displayed
The bug, resulting to that sometimes video was recognized optically even if there was an information on time of shooting in the file, is corrected
Version 3.2
The report generator - Clip Sheet is added
The mechanism of optical redetection of scenes is added
Scene naming templates are added
Possibility to process video of the Windows Media format
The format of HSQ files is changed - now version 2
Possibility to speed up optical recognition of files of some formats at the expense of usage of video of the reduced quality is added
Version 3.1
The algorithm of ignoring of flashlights is added
Search of scenes on time of shooting is added
Version 3
Manual editing of scenes - Manual Trimmer tool
In Split mode the information about timecode of initial video is saved
The type of result - PSQ 5
The type of result - PSQ 6
Own HSQ file format
Version 2.02
Two errors in the mechanism of copying AVI of files in Split mode are corrected. In rare cases they resulted to that resulting files could not be played back.
Version 2
Usage of Microsoft DirectShow API and consequently abbreviation DS has been added to a program name
The support of AVI Type 2 — files more than 1 Gigabyte
DV files support
One algorithm for optical recognition of the scenes with an adjusted threshold of sensitivity
Batch operation
Two kinds of PLB files can be created — Compatible PLB and Usage PLB
New kind of result — Simple List
The advanced command line mode
Correct recognition of audio in separate WAV file
Correct processing of dropped frames
Limitation of minimum length of the retrieved scenes
The date of creation of a source file is assigned to files created in the Split mode
"Quiet mode" - the dialogues with error messages are not output
The process can set priority of execution
Possibility of recording of processing errors in the log-file
Possibility of recording of processing results in the log-file
Integration with Windows explorer
Detailed realtime statistics during execution
Installer/uninstaller
Version 1.2b
The structure of created .PBL file was considerably perfected. Now project, created with the HandySaw use, can be trimmed (Utilites/Project Trimmer).
The correct recognition of any values of "Frames Per Second" of a source video was added.
The possibility to discard adjusted quantity of last frames of each scene was added.
The indexing of the scenes now is carried on in decimal format instead of in hexadecimal.
Generated .PLB files are compatible with Adobe Premiere 6 now. It is recommended to import them to the project via File\Import\File.
Version 1.1b2
Small bug of audio disappearing in long source splitting was fixed.
Version 1.1b
The opportunity to save each found scene in separate AVI file was added. Now HandySaw can be used with any videoediting system, not only Adobe Premiere 5.*.
Version 1.0b3
NTSC 30fps and 29.97fps support was added.
Version 1.0b2
The improved algorithm of recognition was added. Percent of the detected cuts was rather increased.
The DV mode was added. Very slow. It is sensitive to any distortions of a picture, accepts them for cuts. The sole mode, which can be used in DV-systems.
In the main window of the program the information on an amount of the detected cuts, elapsed time and scan speed was added.
The name of a source file can be set with the "Drag'n'Drop" from Windows Explorer and as program argument at start.
Version 1.0b
First issued version of the program. One base algorithm of scene recognition was realized.
---
Conclusion
I offer to download and test this program in operation. Good luck!