Flash Guard

– gebruik pen drives zonder angst
Beschrijving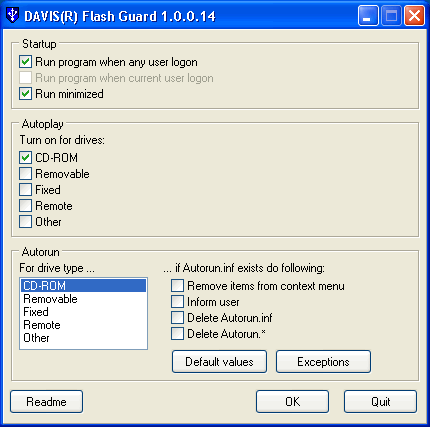 Veel moderne virussen gebruiken de Autorun-functie om zichzelf via flashdrives te verspreiden.
En vaak kan antivirussoftware dit niet tegenhouden.
U of uw beheerder kan de Autoplay-functie uitschakelen, maar een virus kan uw systeem nog steeds infecteren via het Autorun.inf-bestand op de flashdrive - Autorun-functie.
Flash Guard kan Autorun blokkeren en virussen tegenhouden!
Het start op tijdens het aanmelden van de gebruiker en bewaakt alle schijven in het systeem.
Wanneer er nieuwe media zijn geplaatst (bijvoorbeeld Compact Disk) of een nieuwe schijf is toegevoegd (USB-flashdrive), kan Flash Guard de volgende acties uitvoeren op dit nieuwe volume:
Verwijder extra contextmenu-items (klik met de rechtermuisknop), die zijn toegevoegd door Autorun.inf
Informeer de gebruiker over de aanwezigheid van het Autorun.inf-bestand
Verwijder het autorun.inf-bestand
Verwijder alle autorun.*-bestanden
Programmagedrag is volledig aanpasbaar.
Het verwijderen van menu-items is het belangrijkste kenmerk van Flash Guard. U kunt dus zelfs het virus niet van de flashdrive verwijderen, maar u kunt het via Explorer openen zonder geïnfecteerd te raken.
Licentie
Het programma kan gratis voor elk doel worden gebruikt.
Als je deze software leuk vindt en mij wilt bedanken, kijk dan hier .